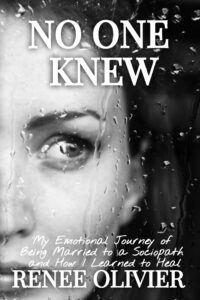 People have often asked me what made me want to write my book, "No One Knew." Words have the ability to not only help heal, but they can also save lives. My own personal story delves into my life behind closed doors and the experiences I encountered married to a sociopath and how I learned to heal and love myself again. Sharing my story may help others who are struggling to understand what they may be going through and to shed some light on the topic that is not commonly talked about, but so important to understand if you're living a life with a partner who hides behind a mask of normalcy to others but reveals their true self to you.
Even though there are other stories from experts and therapists on sociopath's traits and characteristics, I truly believe it takes someone that has lived it every day, sometimes for years to really know what they are capable of and the trauma it can cause on your own self-worth. I think there has really been so little research done on the subject, and that most people can't identify a sociopath and are unsure of what is happening to them at times.
When I was living this parasitic lifestyle with my ex-husband, I had only wished someone else had shared their story with me so that it might have made sense to what was happening to me at the time. My hope is that my story can help someone else involved with a sociopath to understand that they are not alone and how they can protect themselves and find courage, strength, and love after leaving the relationship.
Click on Any of the Retailers Below to Order Your Copy